Be Military Fit with Bear Grylls (BMF) is leading the hunt for two thousand fitness fans to take part in a special one-off event with the aim of raising funds for Royal British Legion Industries (RBLI), a charity celebrating 100 years of providing employment, homes and support for wounded military veterans.
RBLI and Be Military Fit with Bear Grylls have joined forces to launch Britain's Bravest Military Challenge, a mass participation event taking place at 20 locations around the UK on Saturday, September 28th.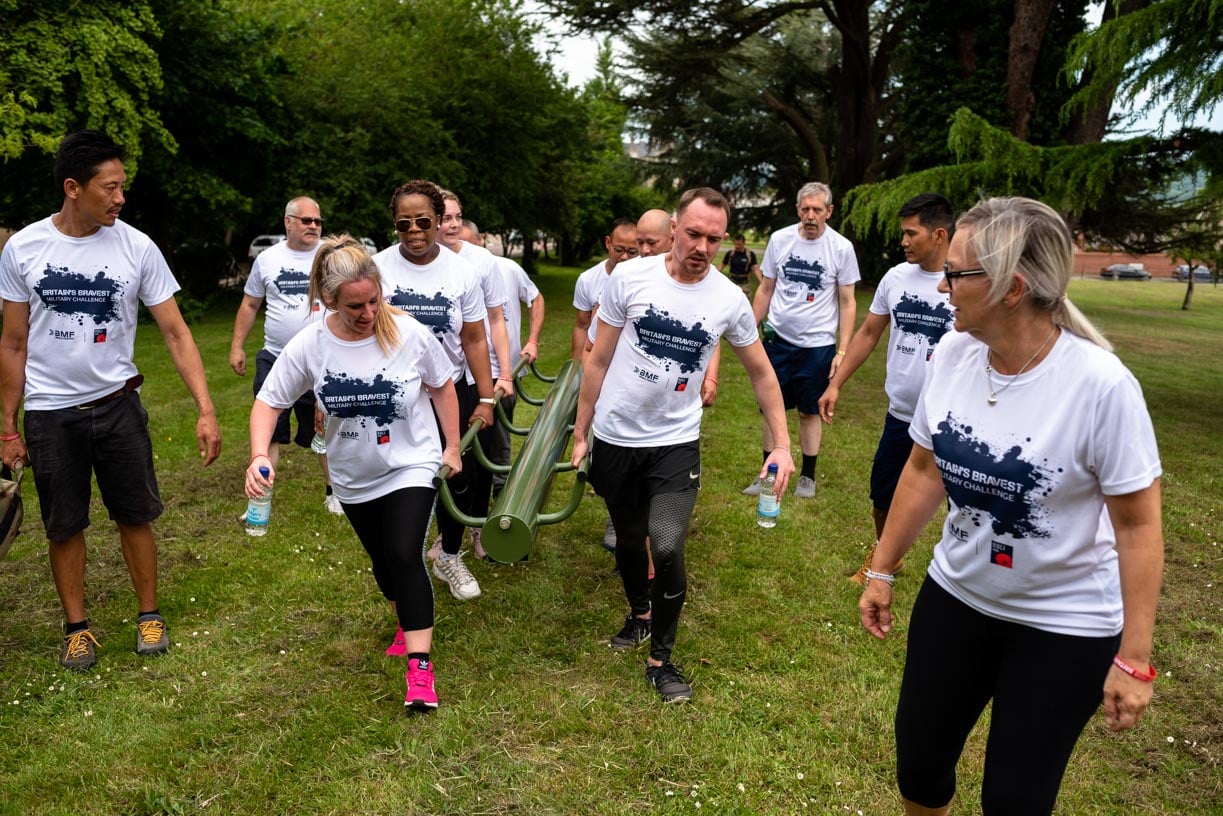 The event will see participants put to the ultimate military fitness test. BMF has worked with military leaders to create the most authentic experience possible, featuring the toughest, military training drills and the highest level of physical and mental challenge.
Participation for BMF members is free but we each is targeted with raising £100 towards a total of £200,000 for RBLI's Centenary Appeal.
Bear Grylls said: "Britain's Bravest Military Challenge is the perfect opportunity for people from all over the UK to grab their work-out gear – along with a few friends – and take part in a truly unique, military-style work-out, all while raising money for one of the country's leading veteran charities.
"Royal British Legion Industries offers a genuine lifeline to the country's most vulnerable veterans. So we at BMF are incredibly proud to have joined forces with RBLI during their centenary year to help raise funds for their crucial services."
Events are taking place at Clapham Common, Battersea Park, Hyde Park, Richmond Park, Hampstead Heath and Finsbury Park in London; Cannon Hill Park and Sutton Park in the Midlands; Heaton Park and Sale Water Park in Manchester; Sefton Park in Liverpool; Roundhay Park in Leeds, Rawcliffe Country Park in York; Inverleith, Rouken Glen and Callendar Park in Scotland; as well as Bristol, Cardiff, Maidstone and Guildford.
The event was launched on 30th May on RBLI's Kent-based village, where 100 veterans took part in a mass-participant BMF class.
RBLI was founded in 1919 to support sick and wounded veterans returning from the battlefields of the First World War. Today it provides jobs for former forces personnel through Britain's Bravest Manufacturing Company (BBMC) with factories in Kent and Surrey, and Scotland's Bravest Manufacturing Company (SBMC) from its base in Renfrewshire.
It also provides accommodation for veterans at its site near Maidstone in Kent, and all money raised through Britain's Bravest Military Challenge is going to support RBLI's plans for a new £14m Centenary Village comprising specially-adapted accommodation for injured ex-service personnel.
Steve Sherry CMG OBE, Chief Executive of RBLI, said: "We need to raise £14 million to develop our Centenary Village, which is crucial if we are to continue to provide the highest level of care and support for our military veterans for another hundred years.
"We are excited to be joining forces with Be Military Fit to stage Britain's Bravest Military Challenge and are most grateful to all those who will push themselves through the pain barrier to support our Centenary Appeal."
When complete, the Centenary Village will provide 48 apartments, each designed to be fully accessible and house single veterans in urgent need, alongside 20 new family homes in a mix of town and mews-style housing, and further 24 assisted-living apartments.
A community centre will provide veterans and their families with a range of services, welfare support and training, tackling isolation through social engagement and promoting independence.
Ivan Rowlatt, Operations Director at Be Military Fit said: "Be Military Fit (BMF) is very proud to announce its partnership with the RBLI. This is a superb charity, whose forward thinking approach and core values align perfectly with our organisation.
"Not only are we both committed to assisting veterans in training and employment but also in keeping them both physically and mentally active. This partnership has the ability to deliver all of the above but will also increase the reach and access to broader cohort of military veterans.
"The partnership will provide bespoke physically challenging and enjoyable events to raise charitable funds. The launch pad for this will be in September this year when we will launch, 'Britain's Bravest Military Challenge'; a fantastic opportunity to get fit and support a superb charity."
For more details of the host venues for the event and to register click here.