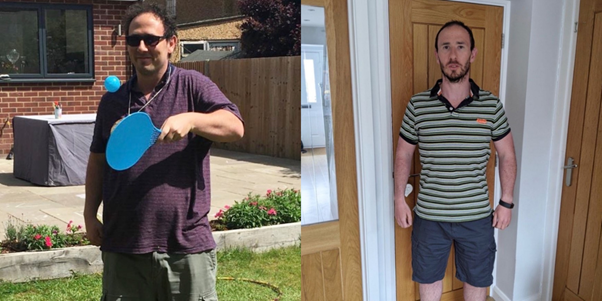 When BMF Watford member Jeff first joined Be Military Fit outdoor sessions, he would have never anticipated the transformative results he was about to experience.
"I joined BMF in July 2020 after the first COVID lockdown was lifted. During the lockdown, I had been working from home and was really struggling with both my mental and physical health. After much procrastination, I signed up for a trial session with BMF.
The outdoor aspect of the sessions appealed to me (I was still stuck working from home and wanted a reason to get outside for some fresh air). Honestly, I found the first trial session tough. I was very overweight, and I struggled with some of the exercises… but I did it!
The instructor and group were really supportive throughout and everyone clapped at the end. I felt great and signed up. After that, I attended three BMF sessions a week pretty consistently and quickly started to see improvements in my fitness.
The sessions combined with healthy eating led to me losing weight pretty quickly. I continued training throughout the subsequent lockdowns.
BMF provided lots of online live sessions and it helped seeing a familiar face encouraging you to do one more burpee!
Eight months later and I have lost around five stone (32KG) in weight and have moved up to a green bib! BMF has helped massively with my mental and physical wellbeing in the last year. I honestly don't know what I would have done without it."
We love sharing our member journeys and witnessing the amazing transformations that come from BMF sessions.
With Outdoor, Urban and Online sessions, there have never been more convenient and varied ways to join the BMF family.
Find your nearest BMF venue here: https://www.bemilitaryfit.com/search-venue