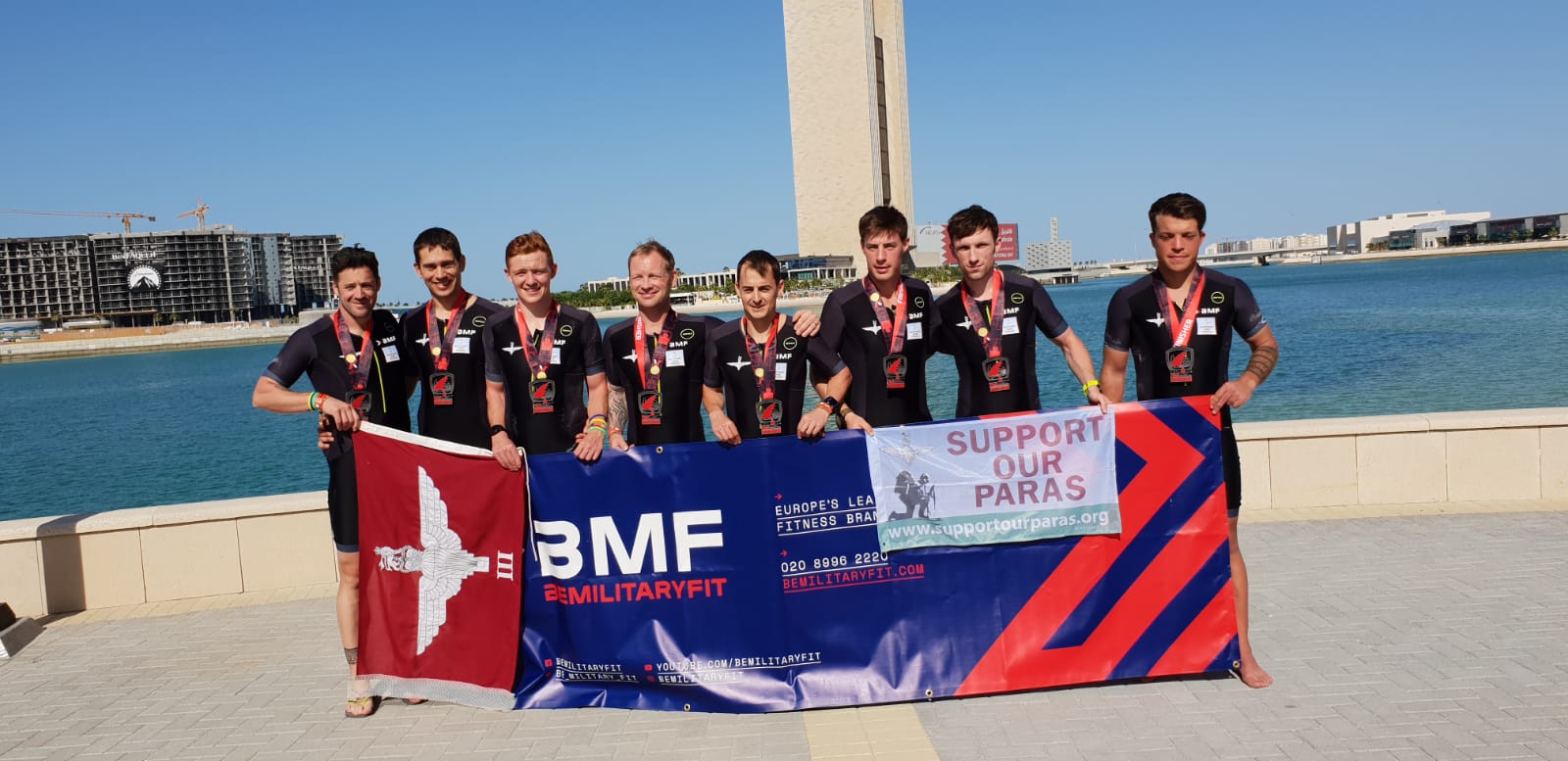 In early December, Eight members from across the Parachute Regiments Battalions travelled to Bahrain to compete in the long distance triathlon in the Middle Eastern Championships.
The 113km race comprises of a 1.9km Swim, a 90km Cycle and a half marathon (21km) and is commonly referred to as a Half Ironman.
The Paratroopers competed alongside some of the best triathletes in the World. And unlike the rest of the competitors, the Paratroopers had to fit their training in around their already very arduous military training. With the majority of the team competing just a few days after a long overseas exercise in France.
Not only did this event provide a fantastic platform from which to display the true grit and determination of Paratroopers. It is also the first official event for the Parachute Regiment Triathlon Team.
The team performed incredibly well, producing some exceptional times. This was the first race for 3 of the team and the entire team produced new personal bests. The times are as follows; WO2 Smith: 4 Hours 29 minutes, CSgt Groves 4 Hours 33 minutes,Lt Christie 4 Hours 34 minutes, Capt Proud - 4 Hours 38 minutes, LCpl Gander: 4 Hours 49 minutes, Cpl Walton: 4 Hours 58 minutes, LCpl Ince 5 hours 03 minutes.
The team would like to express their gratitude for all of the support they received – without it, this once in a lifetime opportunity would not have been possible; and subsequently we would not have been able to demonstrate on the international stage just what the men of the Parachute Regiment Triathlon Team are capable of. In particular they would like to thank Be Military Fit, SUPPORT OUR PARAS, and Zone 3.
This event marks the official beginning of what looks to be an exceptionally bright future for triathlon within The Parachute Regiment - and over the next year the team will compete in both military and non-military competitions, hunting for gold.
BMF's MD Tommy Matthews says "BMF's support for the Parachute Regiment is incredibly important to our long-term vision to retain our military heritage and increase awareness of career opportunities within the company to Army leavers. As the main sponsor of the Para Reg Tri team, not only is it a great honour to support the 8 athletes but it also puts BMF on the international stage as a fitness company deep routed in military ethos."
To keep up to date with the team and their progress, follow them on Instagram 'ParaRegTri' and keep an eye out on the BMF Facebook page as we run some great stories about the individual athletes.