British Military Fitness was founded by three men who had all served in the Army and who had been working together as extras on the set of the film Saving Private Ryan.
After talking through a niche idea to run military-style outdoor fitness classes, Robin Cope, Will Skinner and Harry Sowerby pooled their assets – around £3,000 - to pay for some second-hand computers, some kit and an advert in the London Evening Standard.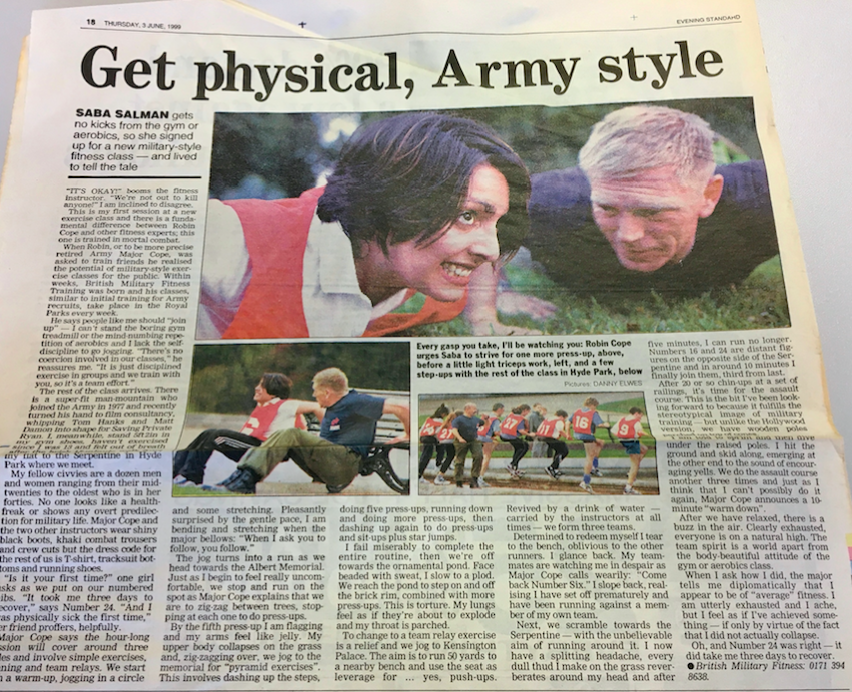 Between 10 and 30 participants turned up to the first few sessions in London's Hyde Park 18 years ago. Now, around 90 people at a time regularly attend sessions in that same park and BMF now has 12,000 plus members in more than 150 venues across the country. It also has several other strings to its bow including the Major running events, Sunfit active holidays, its Academy for training fitness professionals, its Nutrition hub, business partners, ad hoc expedition weekends and a whole host of other social activities specific to individual parks.
To celebrate BMF's coming of age, we invited some of its first members to a reunion at a special class back where it all began in Hyde Park, complete with a bib-shaped birthday cake, and asked them to reminisce about the early days of BMF: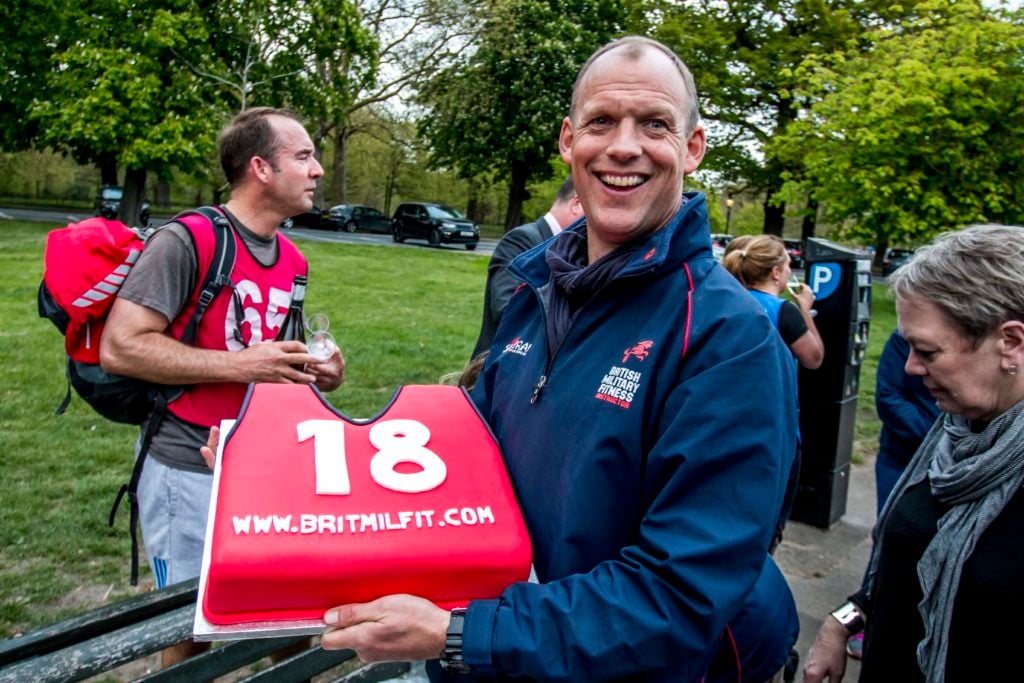 Charles Cara said: "I went to my first BMF class in June 1999, where Harry, Robin and Will took 15 of us training around Hyde Park. It was fun, it was hard work, it was different. Instead of training in an airless gym room, we had the space of the whole park to exercise in. I was hooked!"
IT project manager Steve Page, 63, said: "I saw an advert for BMF in a London paper in April 99 and I did my first class at 7am in Hyde Park in early May that year. I keep coming back first and foremost because it works! It's given me a level of fitness and a quality of life that I would not have had otherwise. I've tried other fitness regimes in the past and have found that they actually become a chore rather than a pleasure but BMF is fun. I'm still training at Norman Park in Bromley and it was great that I could train in another park. I've done that elsewhere too if I've been working away from home.
"The other thing is the people - the instructors, the staff but also the type of person who does BMF. I find they are people who don't generally take themselves too seriously. The people that stick with it are generally pretty easy going, happy-go-lucky people with a positive outlook on life. There is definitely a BMF type – a personality that this really suits. They do stay for a long time, much longer than if they were training by themselves. It's the variety that you get - it really is the spice of life when it comes to keeping fit.
"One of the things that we do more and more of now is that we have one class a week where we do kit. It could be boxing with pads and gloves, or kettle bells or stretcher races or equipment that looks vaguely like a mortar for a sort of gun run. That's great fun and people love that sort of stuff – it's unique and you don't get it anywhere else. People love the teamwork, the banter and the camaraderie.
"There is an ethos that I think it's important that we maintain. BMF takes a lot of its culture from the military which is really good but it's absolutely not exclusive. I'm always amazed at the variety of people who attend and once they get over the fear of being shouted at (BMF
would describe it as 'encouraging loudly'!), they find out that there is a discipline around the way classes are run because there has to be, but everyone is encouraged. Newcomers always get a really good welcome. No one gets left behind.
"It's added to my quality of life because I have had health problems and I think that I probably wouldn't have got through those as well as I did if I wasn't as fit as I was. What I find is that it destresses me and I'm much more able to handle the stresses of life in a more positive way. It makes me feel more positive about life – the downs aren't as down as they might otherwise be. At the end of a class we all have what we call the virtuous glow! You think to yourself, well I deserve my dinner now or I deserve that pint. It puts a smile on people's faces and I have made a lot of friends too. We've done a lot of the events together."
Through BMF Steve met Ian McWhirter, who joined BMF in 2000 and still attends classes. He said: "I saw something about BMF on TV and went along to Hyde Park with great trepidation. Harry was the instructor on my very first session which was on BMF's first anniversary. Later, I transferred my membership to Finsbury Park.
"I used to go to gyms but just found them tedious and I'm bad at self-motivating but at BMF the group is so supportive. They're a friendly bunch. BMF seems to attract decent people and it's a great leveller because you can't tell what walks of life people come from. BMF does the job. It keeps me fit and I'll keep going as long as I'm able – I'm 70 next year for goodness sake! I would say joining BMF is a way of life. It's not something you do for a short while. You build it into your routine."
Another original joiner is project manager Nick Rabin who's still a regular red bib (intermediate fitness level) at Battersea Park. He said: "I saw a series on BBC2 which compared different ways of getting fit over six months and BMF featured on that. It looked really effective. Then there were some adverts in the paper that just said 'Want to get fit and hate the gym? Come and meet us at Hampstead Heath Park.' So I went along for a while but the park closed and members moved to Hyde Park because numbers dropped down to 10 members. Hyde completely took off after that and then Hampstead Heath reopened."
Clare Holden, who joined BMF at Alexandra Place in May 2000, said: "BMF did change my life and I owe a huge amount to Robin, Will and Harry. Also, I have to say I've been a good customer, recruiting several equally hopeless relatives who attend regularly. My 11-year-old son also looks forward to joining when he is 16.
"If it ain't raining it ain't training! That's my favourite instructor mantra. My other favourite is "It's all about looking good." The truest one is "no pain no gain."
Theatre director Lee Menzies was one of the regulars who helped BMF stay afloat in 2001 when the company needed investment to expand. He said: "We weren't investing because we were thinking about making a profit, we just wanted to make sure there was an instructor in the park the next day. We enjoyed it so much we wanted it to carry on. I'm glad we did."
Huge thanks to everyone at Hyde Park and to all those 'old timers' as they called themselves, for turning out on 12 April!