Our amazing BMF'ers ran a total of 3500 miles to raise money for the Leilah Foundation.
"Each year we try to make a challenge to help us improve fitness, set PB's and to raise money for a good cause, the chosen charity this year was the Leilah foundation. It is a small charity set up in memory of Leilah Hayden who passed away, aged 15 months from viral myocarditis. With no symptoms, Leilah went to bed and never woke up."
It took 12 weeks for her parents to discover that her cause of death was myocarditis. Myocarditis is a disease marked by inflammation and damage of the heart muscle and accounts for thousands of sudden deaths each year.
Since her death, Leilah's parents Alicia Mearns and John Hayden created The Leilah Foundation to raise awareness for the disease.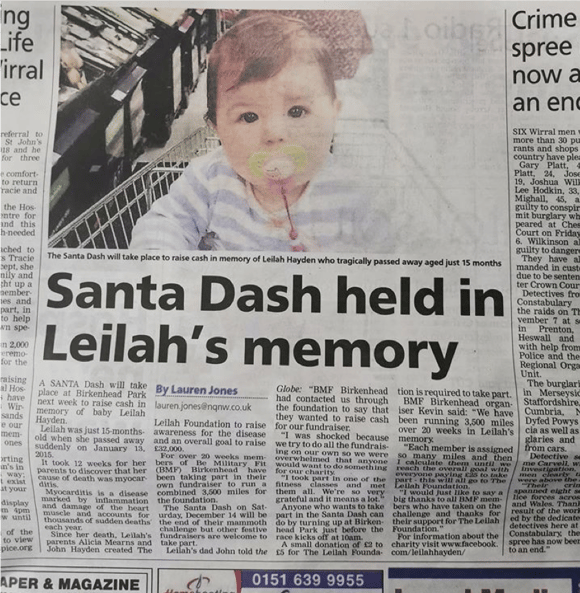 "We raised money to donate for her research. This is a non-profit charity run by Leilah's parents from their home. They have been very thankful for the help and effort the people of BMF Birkenhead have put in to support them. Leilah's dad, John Hayden joined BMF Birkenhead for a class to see what it was all about and thanked everybody for their hard work towards the charity.
So, let's start with the distance. 3500 miles is further than Liverpool to New York, it's Liverpool to Istanbul and back. Starting in the summer about 20 people took part in this challenge, inevitably there were plenty of injuries along the way, but with a strong bond and a great motivator, Kevin Thompson (our BMF instructor) leading the way, and with Helen Hurst keeping track of our total mileage we completed the challenge.
A variety of people took part in half marathons, 10k runs, the first BMF challenge with the RBLI in Sefton Park and the dreaded Hell Runner. People took their running shoes worldwide with runs in France, China, LA and around Great Britain."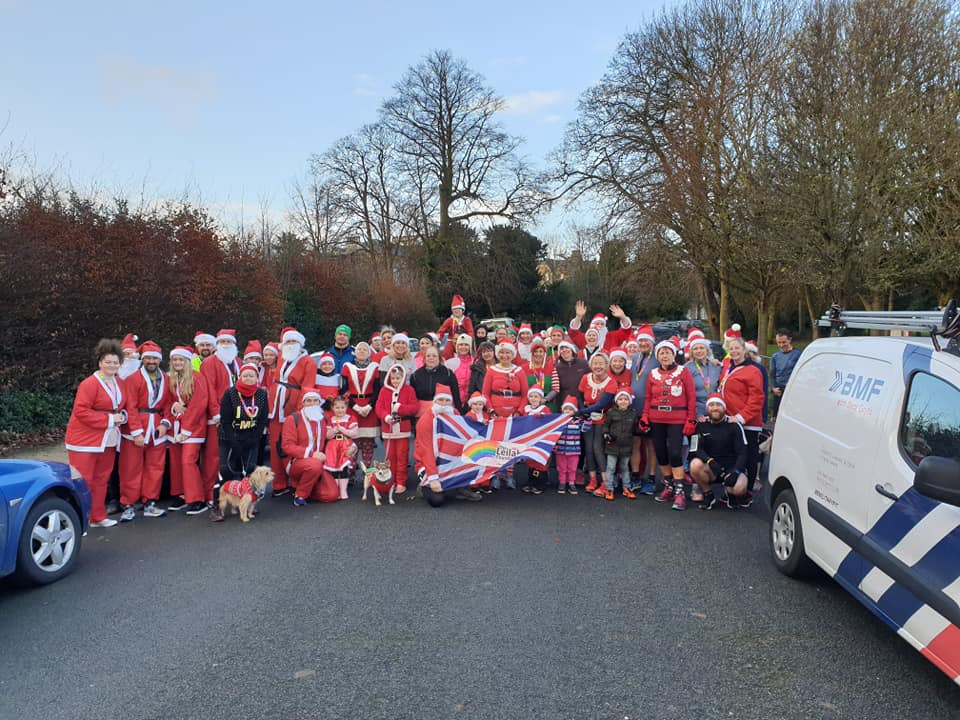 A Santa Dash took part on the 14th December as a final, festive challenge to reach the overall mileage goal. Each member paid a fee to run in the Santa Dash and all of the money was donated to the Leilah Foundation.
"Everyone that took part relished the challenge and we look forward to more challenges in the future."
By Martin Blumson Rainsby & Helen Hurst (BMF Birkenhead Members)
BMF would like to congratulate our amazing Birkenhead members on their incredible achievements and fundraising efforts. We can't wait to see your next challenge!
To support the charity, visit: https://www.facebook.com/leilahhayden/
To read the news article by Wirral Global, visit: http://bit.ly/LeilahFoundation