Father and daughter Jamie and Lydia tell us why Be Military Fit is great for family fitness. Read their story below.
I am Jamie Johnson, 44 years old and I'm a London cab driver from Enfield. I have been a BMF member since mid 2014.
My daughter, Lydia, is a year old 17 student. She has been a BMF member since 2018.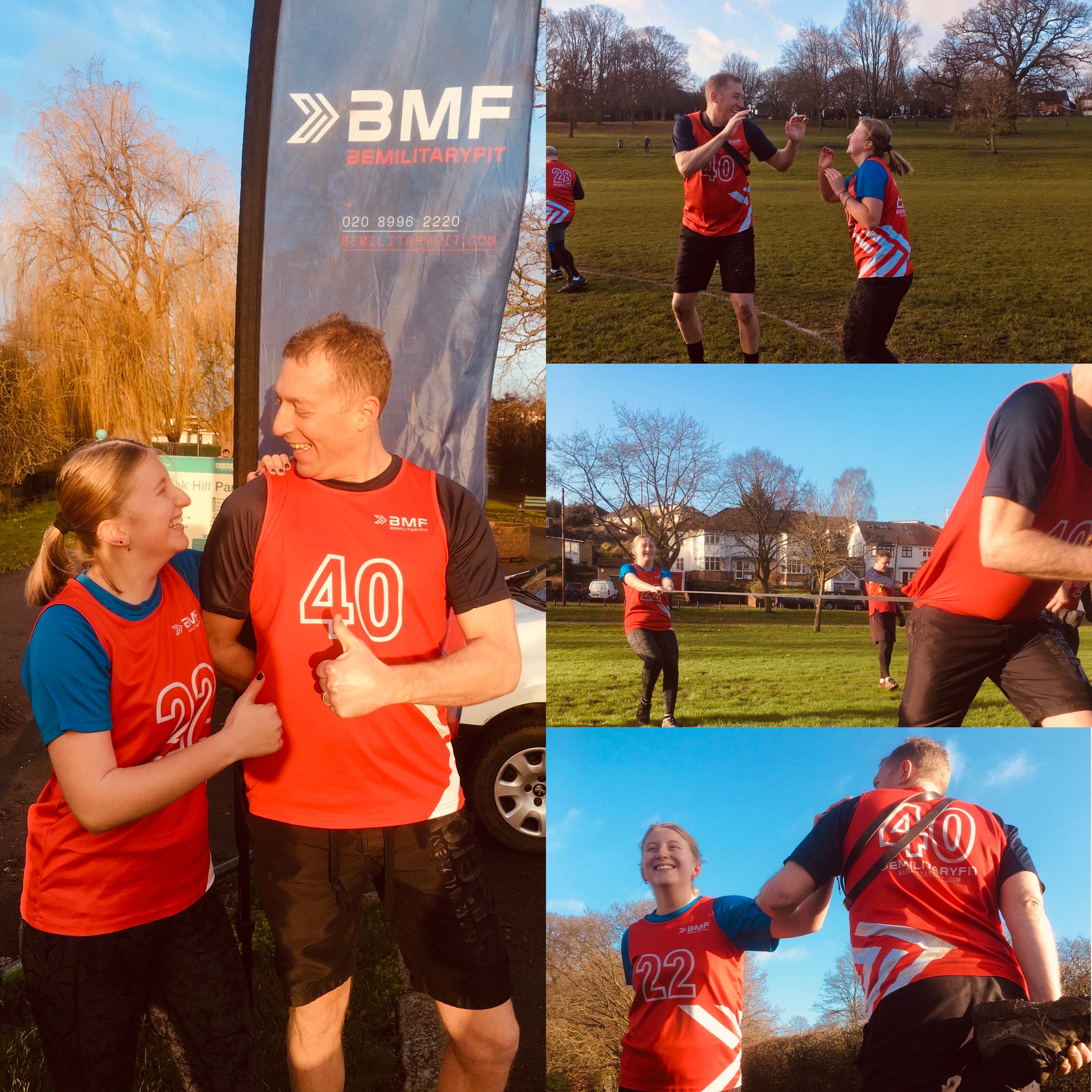 Sitting in a cab all day long is not ideal. I've always tried to remain active but a lot of the time I found it difficult to motivate myself. I'd regularly see the BMF Instructors in Hyde Park and thought I'd give it a go. Luckily there were sessions local to me in Enfield.
I encouraged my son George to come along, and together we did the free session not knowing what to expect. I must admit the Instructor was fantastic, and from that point, I was hooked.
George continued with me for the next year or so before heading off to Uni
Meanwhile, I was forever being pestered by my daughter to come along. Unfortunately, she was a little young.
Why did you get Lydia involved?
I'm so lucky to have a close relationship I have with both George and Lydia. I always remind myself how quickly they've grown up so I try to spend as much time as possible with them. Lydia's always been active. For years we did Tae Kwon Do, skateboarding and horse riding together and as soon as she turned 16 she didn't need much persuading to join BMF.
What do you get out of BMF?
Most importantly motivation. Also the great camaraderie between the other members. It breaks the week up nicely and I'm always looking forward to the next session.
What do you get out of BMF Lydia?
Apart from spending time with my Dad, I get a feeling of achievement after every session, enjoyment and for someone who struggles with anxiety, I also come home feeling stress relieved and strong-minded.
What is it like training with your daughter?
We have such a laugh. Forever partnering up and sharing the pain in whatever the Instructors throw at us. We egg each other on and comment on each others' exceptional form...or lack of. Encouraging one another to do that extra rep!
What is it like training with your Dad?
Most people my age are embarrassed to be seen with their parents. I love it. It brings us closer together and keeps our bond strong. We make fun of each other, but also support and motivate each other.
What positive effects does it have on father-daughter relationships?
As life moves forwards, children begin to drift from their parents. Doing BMF together keeps our relationship strong and gives us that reassurance that we cant drift so easily. Its also a brilliant way of making memories that will last forever.
Are you competitive with each other?
We try not to competitive with each other. Instead concentrate on encouraging each other to do the best we can, and of course, have plenty of fun and laughter and some good old Father Daughter banter.
How do you and Lydia feel before a session and after a session?
We always feel apprehensive as to what the Instructors have in store for us, especially Special Ops night and we always look forward to a session no matter how grim the weather. After a session, we feel energised, strong and motivated for the next session. We especially enjoy the day after, when our bodies feel battered but in a good way - a nice pain, that shows we have worked hard.
Would you recommend other parents to try BMF with their sons and daughters and why?
Without a doubt. Our lifestyles now are so busy and time flies by so very quickly. Before you know it the kids have grown up and you barely see them. It's so important to spend as much time as you can with them and BMF is an excellent way of doing so.
Thank you to Jamie and Lydia for sharing your experiences with us.