RUNNING CLUB CLASSES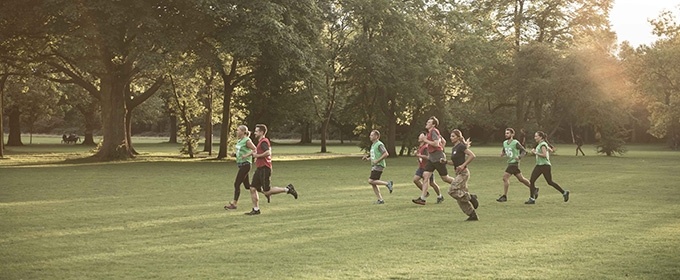 Are you preparing for your first running event?
Or perhaps you are already a runner, keen to improve your endurance and technique?
Either way, our BMF Running Club sessions are a great addition to your training plan as they complement BMF sessions in terms of increasing cardio stamina, endurance and strength, as well as helping you adopt the correct technique to help you reach those goals more effectively.
WHAT HAPPENS IN A RUNNING CLUB SESSION?
Similar to BMF sessions, running club classes last for an hour and include a 5-10 minute warm up and 5 minute cool down, with a water break half way through. Each and every session is different, from speed or endurance specific classes to those centred around style and technique drills. Whatever class you attend, the main aim is to better your running ability and improve your technique.
Whilst stepping outside your comfort zone of regular BMF sessions can be scary, you should never fear Running Club. The instructors are all fully trained in how to adapt sessions to cater for every individual, making it hard enough for the front-runners and comfortable enough for the slower runners, whilst still giving everyone a challenging run.
TOP TIPS FOR YOUR FIRST SESSION:
Don't start out too quick. Too often individuals set off like a greyhound and burn out within ten minutes. Running Club can sometimes be about endurance so keep this in mind and take it a little easy at the start.
You will get a water break, supplied by the instructor, so don't bring a load of bottles that you then need to carry. You most definitely don't need energy gels as these are designed for those running for periods longer than one hour.
If you have a GPS watch please wear it. It's a great way to see that you're improving and keeping track of your mileage.
Wear the appropriate shoe. Some Running Club sessions will be off-road and in the winter months it would be hard to stay on your feet in a road shoe.
Don't worry about getting lost! Whilst it's not our intention to lose anyone, sometimes members can take a wrong turn and stray from the rest of the group. But fear not. Instructors regularly perform head counts and will retrace their steps to find any lost members. If you get lost, turn around and head back in the direction you came from. To avoid getting lost make sure you can always see the person in front of you. If you stick by this rule you should never lose the group.
Attending Running Club sessions will really help you to prepare for whatever challenge you have set yourself. Whether you cross the line head to toe in mud, hand in hand with your friends or crawling on your hands and knees, crossing a finishing line is simply the best feeling you can get. Your body is exhausted and you are mentally shattered but somehow you feel more alive and more energised than you did at the start. Then someone puts a medal round your neck and you grow about a foot taller with pride. You might say 'never again', but then comes the reflection and the analysis. 'I could do that quicker' or 'I could run further', to which we would say 'YES, you can. But how do you do that? We'll see you at Running Club.'
Check out your nearest venue for Running Club session times. Alternatively you can take a look at our Running Hub for running tips and advice.