INSTRUCTORS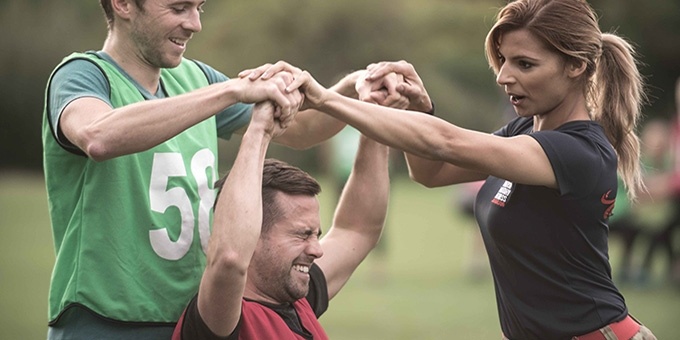 Number of BMF instructors: 400+
Age: BMF has been running for 17 years; with some instructors with us from the beginning.
Training: All BMF instructors are military-experienced, qualified fitness instructors and personal trainers. BMF is an accredited CYQ training provider, and all our instructors receive specific BMF training and take part in assessments as well as regular coaching to help them constantly improve.
Qualities and values: Just some of the words used to describe the qualities and values of our instructors:
Knowledgeable and quickly adaptive to change.
Good sense of humour and infectious enthusiasm to keep the banter going and ensure you barely notice the number of burpees you've done!
Empathetic, especially to beginners.
They have integrity and pride in what they do.
BMF instructors are motivational, and committed to supporting and encouraging members.
What they teach: Each class is varied and different to the last, but include short runs, partner exercises, body-weight exercises and often kit classes. Kit includes kettlebells, medicine balls, boxing kit and powerbags. Several classes also run running clubs and parks regulary run inter-park challenges and themed sessions. This ensures the classes are varied and interesting for all our members.
Aim: To Kickstart people on their journey to being healthier and fitter and to improve and maintain the UKs fitness in a fun, engaging and rewarding manner.
VICKY KERR
There is a common misconception that BMF instructors shout and bark orders, so in a bid to overturn this misunderstanding, we followed a couple of BMF instructor's for the day. The only time Vicky's voice was raised was when she was letting out her infectious laughter - something that happened as frequently in a BMF class as it did when around her two young children.
JEREMY (JEL) BEARDER
Instructor Jel has been with BMF for 8 years and truly encapsulates what it takes to be part of our 400-strong team of instructors. Spending a day in the life of Jel was a non-stop experience of puppy-walks, whitewater rafting and BMF classes – all done with the biggest smile, hearty laugh and passion that knows no bounds. Jel beams, "We're a BMF family and everyone's welcome to be part of it!"